Did I get a bad window installation?
At ProTex Remodeling we often run into homeowners that ask us. Did I get a bad window installation? The remodeling industry in Texas is not regulated. Texas does not need licensing for builders, remodeling contractors or handymen. Having held a Residential Builders License in my home state, I am a fan of licensing requirements for contractors. The test that I had to take was not easy. Licensed contractors must carry insurance, pay annual fees and complete continuing education. The consumer has recourse against bad contractors when they're licensed. Texas only requires specialty licensing for certain trades. Texas does not
require
insurance coverage for unlicensed contractors. Texas does not make contractors carry general liability insurance. So, most of the cheap contractors do not have insurance. An uninsured contractor can leave you exposed to liability. Especially if damage or injury happen on your property.
The problem with lack of licensing requirements in Texas.
In Texas, anyone can become a contractor. There are some great unlicensed contractors in Texas. Lack of licensing requirements opens the door up for poor workmanship. Without licensing, anyone can install windows, doors and siding.
Lack of licensing can open the door to scammers. Someone can claim to be a contractor, get paid to do the work, and then take off, and never seen again. This happens more often than we'd like to admit. If you are a victim of a shady contractor, you have little recourse.
Most companies subcontract their installations.
Common practice in the remodeling industry is the use of subcontractors. There are advantages and disadvantages of using subcontractors. Companies use subcontractors to avoid payroll taxes, workers comp and medical insurance. Although there are some great subcontractors in the marketplace. There are also bad subcontractors that have no concern for the quality of their work. Additionally, using "day labor" is a common occurrence in Texas. You often see day laborers hanging out in your local home improvement store parking lot. Day laborers are often in the country illegal. Plus, many have criminal backgrounds, putting your family's safety at risk.
Why would someone be a subcontractor?
The Good Subcontractor.
The main reason is the ability to make a great living as a subcontractor in the remodeling trade. As a subcontractor, I spent 20 years honing my craft. It is not uncommon for a great subcontractor to generate income well into the six figures. Good subcontractors are in high demand. Plus good subcontractors usually have skilled people working with them. Most good subcontractors are not looking for more work because they are always busy.
The Bad Subcontractor
: This person has a hard time keeping people. Plus, they may be behind on taxes and insurance premiums. High turnover usually results in poor work quality. Due to termination, the bad subcontractor looking for new companies to work for. Finally, the bad subcontractor goes out of business. Or worse, ends up at a discount priced company because no one else will hire them and is on the way to your house today.
The difference is in the installation.
The Good Subcontractor.
Arrive at the job-site on time. Has an installation process that's followed every day. A good installation process looks something like this.
Introduces the crew members to the customer. The crew members have all been background checked for safety.

Their vehicle and equipment, parked in front of the job-site and free of leaks.

Job-site is set up using padded drop cloths, runners. As well as, plastic to cover all delicate surfaces. The exterior is always protected as well.

Window and door extraction happens with care. Trying not to break glass, damage sheetrock or the exterior of the window opening.

Window opening's prepared for the new window.

The window's installed to industry standards. Plus, adjustments to the window operation and all surfaces cleaned.

Replace all rotted wood. Plus, applying sealants to the interior and exterior surfaces per manufacturers specifications..

Vacuuming and cleaning the interior work area.

Clean the exterior work area.

Lead installer does a walk through with the customer. Plus, explains the operation of all windows.
The Bad Subcontractor.
Often arrives at the job-site late and smelling like smoke or last night's alcohol. Has no real process in place to manage the installation and is often in a hurry. A bad installation looks something like this.
Says hello to the customer without formal introductions

Their vehicle's parked in front of the job-site. This vehicle is often older, high mileage and in need of repair. Plus, it may leak fluids.

Remove the screen from the window and throw it outside to catch some of the mess.

Place a small tarp, drop cloth or piece of carpet in front of the windows interior.

Quickly

break the glass out with a hammer. Causes glass to

fly

in all different directions

Extract the frame as fast as possible. This crew often has many installations for the same day and does not have time to waste.

Install the window, often without improper shims and screws. Most often the window does not operate like it should and is not installed correct.

Apply cheap caulking on the inside and outside of the window. Remember, there are bills to pay. So, the less money that's spent on materials the better. Rotted wood replacement is not included in the low bid.

Pick up the screen and drop cloth. As well as, any obvious large pieces of debris. No time to vacuum or rake.

They ask for your final payment and leave.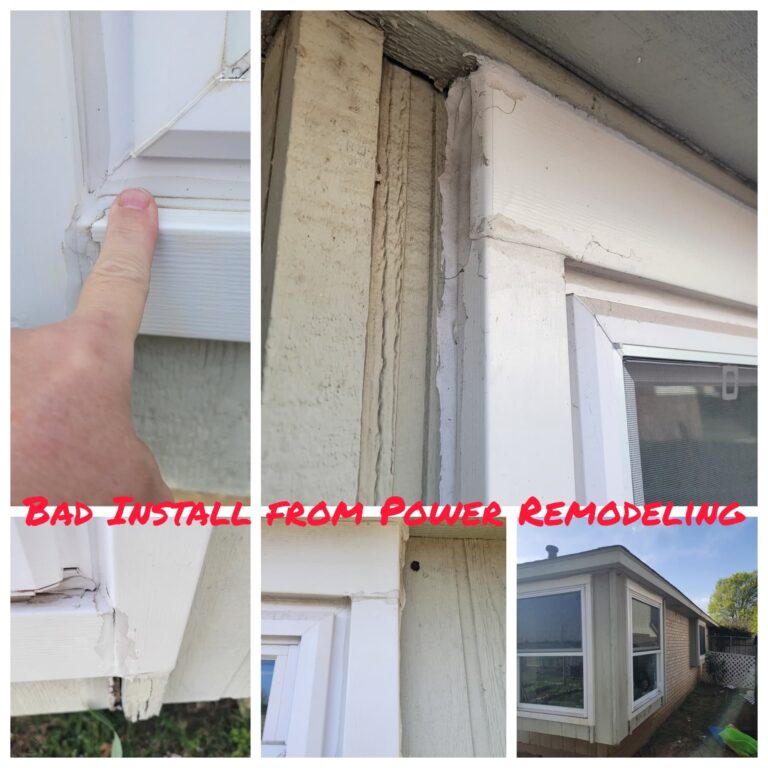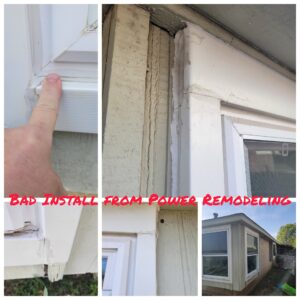 In Summary. Did I get a bad window installation?
If you are looking for new windows, doors and siding. This is an example of what your installation might look like. When dealing with a reputable company that uses either subcontractors or employees. Your installation should be a well rehearsed and seamless process. Personnel should be background checked for safety and trained. Using only quality materials and replace any rotted wood. Unfortunately, there is no guarantee. That the person showing up to your house tomorrow will fall into the good category. Even reputable companies get busy and make hiring mistakes when adding new installers. If you are wondering where installers might come from on your job. Go to Craig s List under Skilled Traded. Type in window installer and watch what happens.